Dr. Bronner's is an icon in the natural products industry. Founded in 1948 by Dr. Emanuel Bronner (after nearly 100 years of family soapmaking), they have been a pioneer in products, organic certification and fair trade practices, social and business integration and fair business practices, and GMO labeling. And of course, they are a certified B Corporation.
At the beginning of the COVID-19 pandemic's spread to the USA, we projected in a previous blog post post that people would flock to brands and products that contributed to better health and sanitation – with Dr. Bronner's high on the list of beneficiaries of any such movement. And we were right: Bronner's has been struggling to keep up with demand for their soaps, and sales of their hand sanitizers increased 6x!
Dr. Bronner's is a longtime client-partner of Promomash. We had the good fortune to speak with their President, Mike Bronner, about their business in normal times, and in the current times of the coronavirus outbreak.
Q&A with Mike Bronner, President of Dr. Bronner's

Can you explain what Dr. Bronner's is doing to help those in need during this crisis and why you think it's important?
Like many businesses in this time, we are doing our best to prioritize the health and wellbeing of our employees and community. For Dr. Bronner's this goes hand in hand with meeting the needs of our customers. Soap and hand sanitizer are essential tools to help keep COVID-19 from spreading and help maintain public health, and for this reason and others, we believe it is important to continue manufacturing our products for as long as we are able to safely do so.
We have allotted a reserve of 2% of all hand sanitizer production to donate to at-risk communities and the organizations that serve them, so they have access to our hand sanitizer as well. Thus far we have made donations to organizations serving high-risk unhoused and low-income populations around the country, including in San Diego, New York City, San Francisco, and Los Angeles. We are continuing to work with advocates and service providers to get our products in the hands of those who need them most during this public health crisis.
How are your patrons supporting your business right now?
People are washing their hands and considering their personal hygiene more than ever and we are seeing unprecedented demand for our soaps and hand sanitizer. We deeply respect and appreciate the trust our customers put in us and our products and we are doing everything we can to support both business demand, and community supply.
Generally, how does Dr. Bronner's work to benefit the world, under normal circumstances?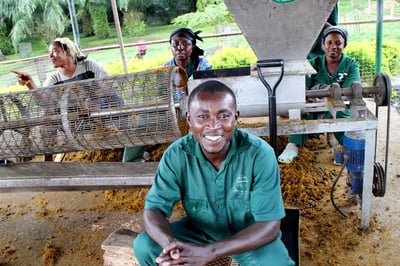 From the beginning, Dr. Bronner's has been an activist company, dating back to

the 1940's when our founder, Emanuel Bronner would speak, first on street corners, and then in auditoriums as crowds grew, to call on the human race to unite, while selling his peppermint castile soap on the side. Carrying forward that same activist spirit, it is our mission to continue to use the company today to fight for and financially support causes we believe in, including community betterment and youth programs, regenerative organic agriculture, fair pay & fair trade, animal advocacy, and drug policy reform. We have donated 7% of revenue and over 40% of profit to charitable and activist causes over the last ten years. We also cap executive pay at 5 times that of our lowest paid fully vested employees, we offer generous retirement and healthcare benefits as well as source all our major ingredients from certified fair trade and regenerative organic supply chains. These are some of the ways we support our broader community.

What precautions is your company making to keep its workers safe while also trying to help the community during this crisis?

For the safety of our staff and community, all of our employees who can work remotely are now working from home. Meanwhile, demand for our soap and hand sanitizer has spiked, and we are doing our best to fulfill the increase in orders.

In spite of our best efforts, constraints prevent us from fully meeting demand: our hand sanitizer, for example, can only be produced at FDA-licensed drug manufacturing facilities, and is being produced at 600% of our usual rate. We've increased production to meet as much of this demand as possible. However, the number one thing we are doing is everything possible to make sure we are helping our employees stay safe, increasing PTO for all our staff, and increasing pay for our factory and on-site workers.

Is there anything you would like to add to this story that I haven't asked?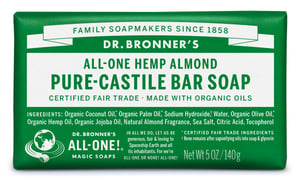 We are asking our customers and community to please be patient as we do our best to fulfill orders and make our products available to those who need them. Please also buy only what you think you need, so that everyone who needs our products can obtain them. This is an important time to remember that we are all connected and need to look out for each other, now more than ever.