As much as we all love technology, let's be honest: it has invaded every part of our day. Rarely do we come across a warm, smiling voice over the phone when we need help. Even more rare are the times when our experience is so easy and positive that we sit back and take note.

Well, if you did have such a notable experience, chances are the company that provided it spent thousands and thousands of hours thinking about how to make that positive customer experience happen.

At Promomash, there's nothing we value more than our clients' success and experience with us. It's at the heart of everything we do.

That's why we were thrilled to learn that our own VP of Client Happiness and Success, Sarah Meyerdirk, landed second place in Cloud Cherry's CX Champion competition.

Cloud Cherry is an industry leader in customer experience (CX) management software (recently acquired by Cisco) that recognizes the best of the best each year in CX and the companies they work for. Sarah rose above hundreds of other CX experts across the nation to clinch one of the top spots.
How about that belt?!?
If you're a Promomash client, it's very likely you know who Sarah is. She leads a team of the hardest-working Client Success Managers and Support representatives (we call them Happiness Agents) in the business. Sarah and her team literally work 24/7 doing whatever needs to be done to ensure our clients are successful with Promomash…and consistently go above and beyond any typical expectations of customer service. Under Sarah's leadership, our Client Happiness & Success team has become the "secret sauce" of what makes Promomash truly special.
That may sound like a good enough reason to win this prize, but the real reason Sarah was chosen is that CX and customer success is more than what Sarah does…it's who she is. And you'll be hard-pressed to find a more passionate advocate for the client. The proof of this is in the video submitted on Sarah's behalf featuring clients and peers alike. And the judges noticed.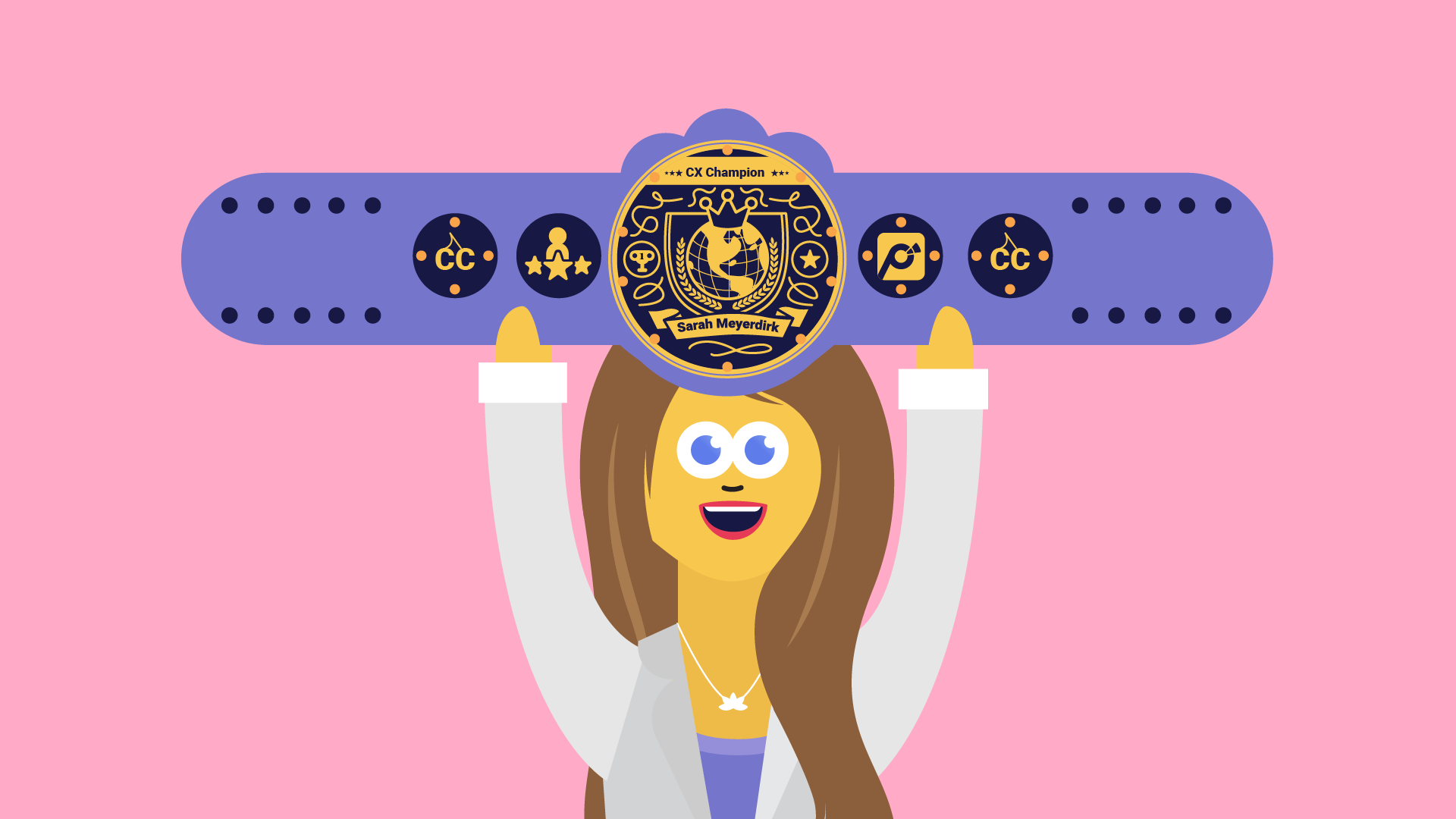 "There was a parade of clients and colleagues alike talking about the real changes Sarah has been able to make, and the improvements, not just around the attitudinal things but around real hard numbers as well," said panelist and judge Jeannie Walters, CCXP.
Perhaps Eric Ullman, CX Champion competition panelist and judge said it best: "She just lives and breathes it…she's one of those people that develops a personal following from her work because she's so genuine, and relatable, and loves people."
We agree, Eric. Congratulations, Sarah, for this wonderful recognition, and THANK YOU for all you do at Promomash!