If you're an emerging CPG brand – especially one that's introducing a new, innovative product to the market – demos and sampling are essential to driving trial and building brand loyalty. And, COVID notwithstanding, it continues to be the best way to do it for brands trying to make it in retail.
But let's face it: Demos can be very expensive, hard to measure, and therefore hard to sell to management. As a company who built the world's best system for managing in-store demo and sampling programs, we've spent years trying to solve this problem and make it easier for brands to tie the value of the investment to sales without having to put in hours of time sifting through spreadsheets or uploading static, month-old sales data. Well…
We're excited to say that, finally, we've found the way to demo reporting nirvana – with a little help from our friends at Crisp.
A suite of new reporting features that will change how you think about demos and their impact on your brand's performance in stores was revealed in a webinar we recently hosted. While the webinar was focused on data from Whole Foods, daily feeds from Crisp are also now available for Target, Walmart, and Kroger. If you don't have the hour to spend to watch it, no worries – you can scroll through this article or watch this 6-minute summary.



👉 LISTEN TO THE FULL WEBINAR HERE
Without further ado, here are 5 things the new Field Marketing Management reporting suite allows you to do to measure the real effectiveness of your demos – and then some.
1. See actual sales lift from demos.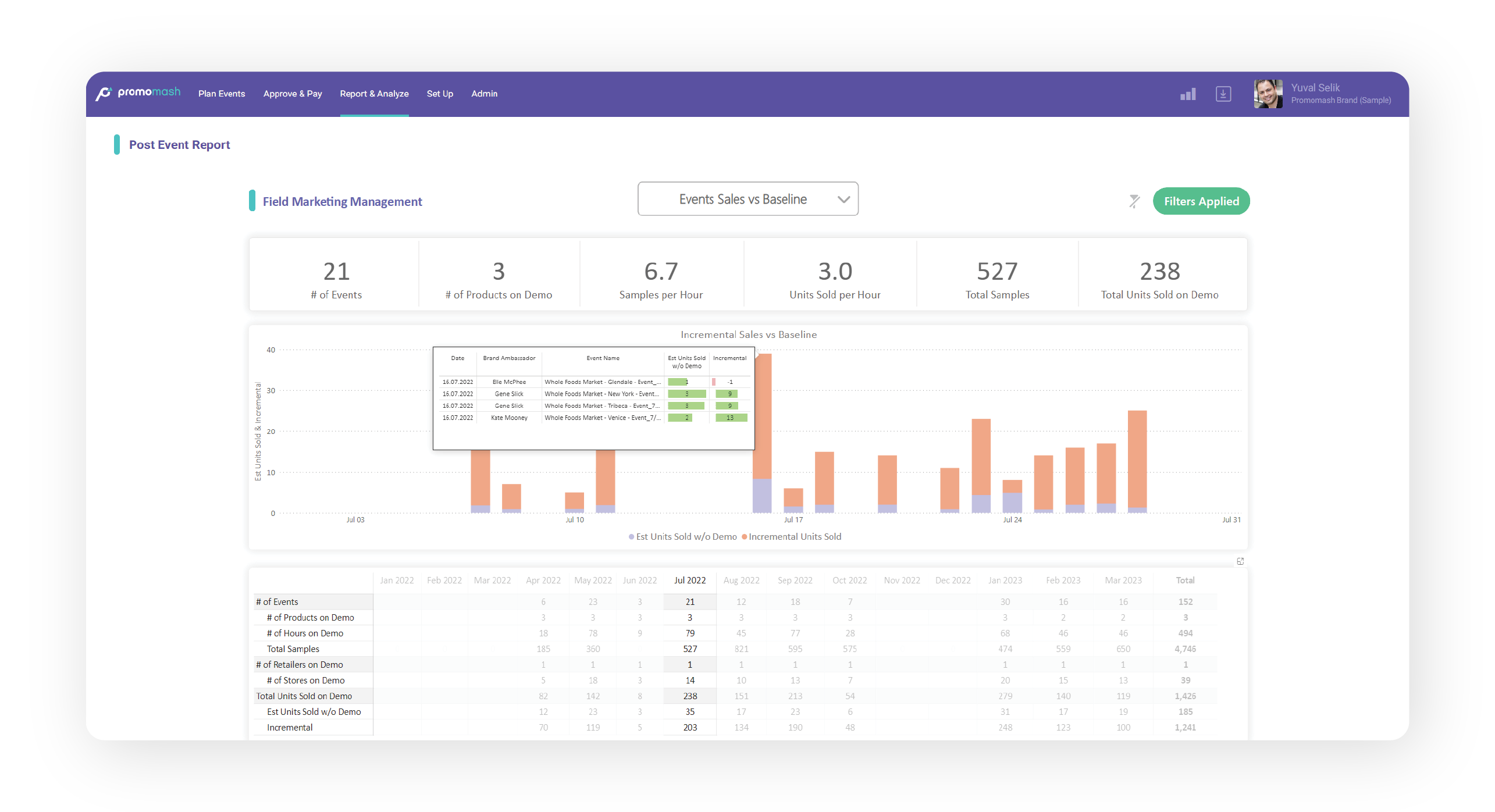 To accurately estimate sales lift from demos, you need to know two things in addition to demo data: your baseline, and actual sales. The Events Sales vs Baseline report brings all three together beautifully to give a true overall picture of event/demo performance.
Number of events/demos, demo hours, and products on demo

Samples distributed, total and per hour

Actual units sold, total and per hour (that's right – and without having to log into the WFM portal!)
The purple in the graph is the baseline, which is generated automatically by the Promomash platform based on daily register data from Crisp. The orange in the graph represents incremental units sold attributable to the demos and any other supporting promotions. This, by the way, is anonymized data from an actual client – and you can see that incremental is quite substantial. Hover over any particular bar in the graph and you will see the actual demos that were done that day to impact lift as shown in the callout box.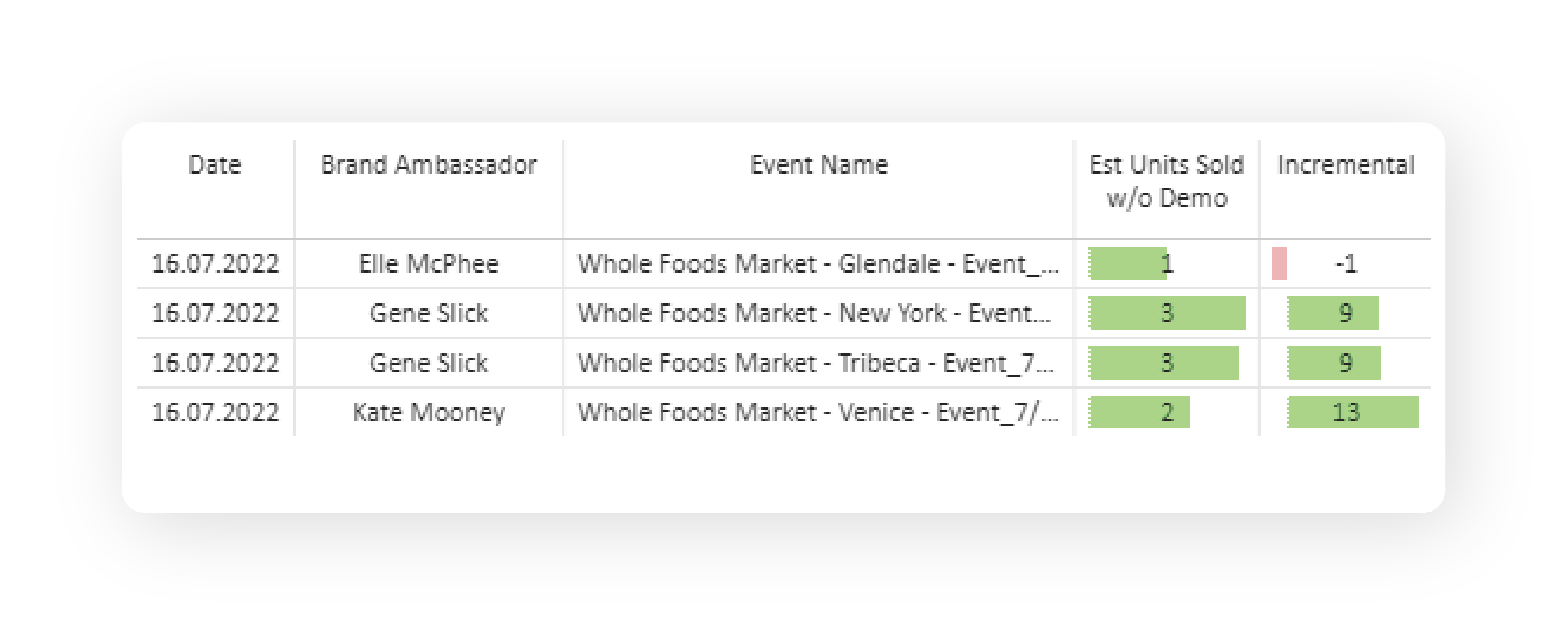 It's important to note that the incremental represented may not necessarily just represent demos if you are running other promotions. If you do TPRs, ads, coupons, or other types of promotion and use our Trade Promotion Management platform, you can also analyze these promotion types to understand their impact on lift.
Now how's that for measuring the direct impact of your demo program?! But wait, we're just getting started…
2. Evaluate actual vs reported Brand Ambassador performance.
Ever wonder if your brand ambassador is reporting the right sales on the post event recaps? Do you feel just the tiniest bit of skepticism when you see how well any particular BA sold at a demo? Now you can use the Events Summary report, and its several dimensions, to evaluate exactly how your reps are performing by comparing actual register sales next to self-reported sales results.
You can look at this data in a level of granularity never seen before – by brand ambassador, by retailer, and by product name. You can even drill down to division or city store or event, then evaluate actual lift by event.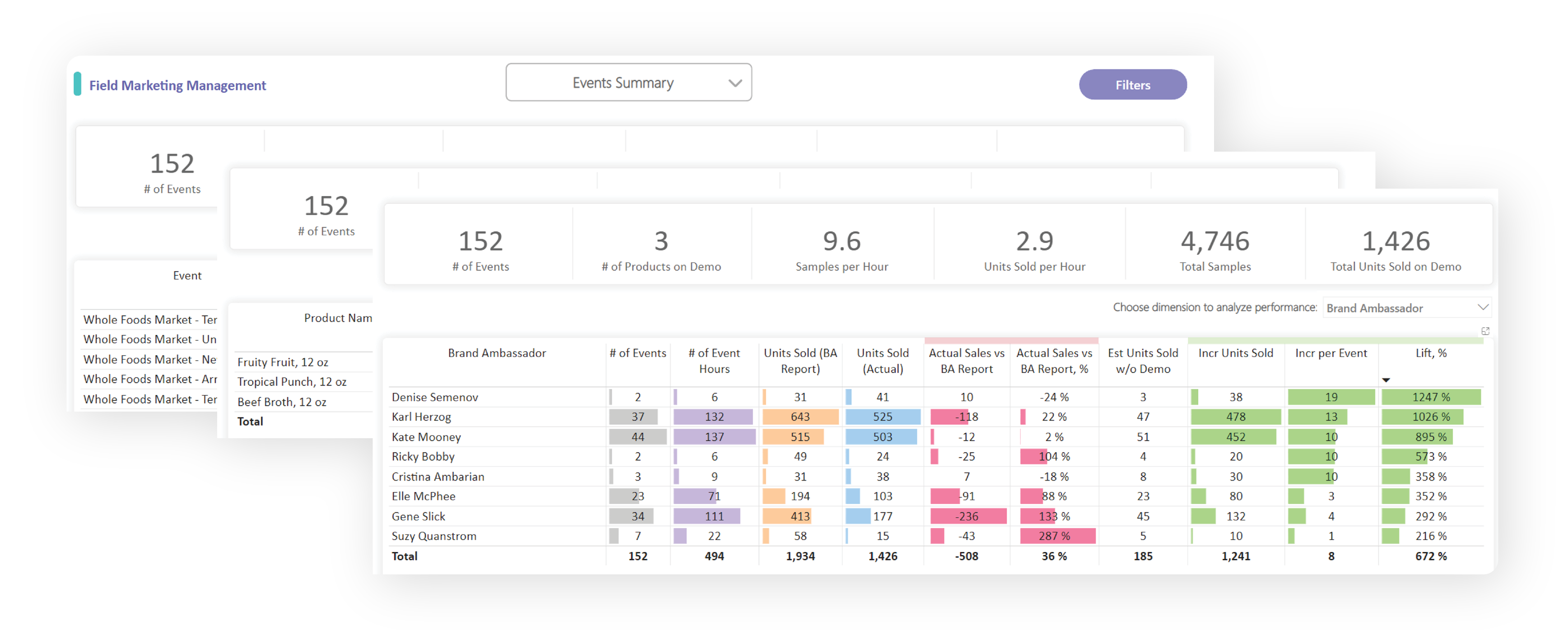 3. Compare performance by location & time.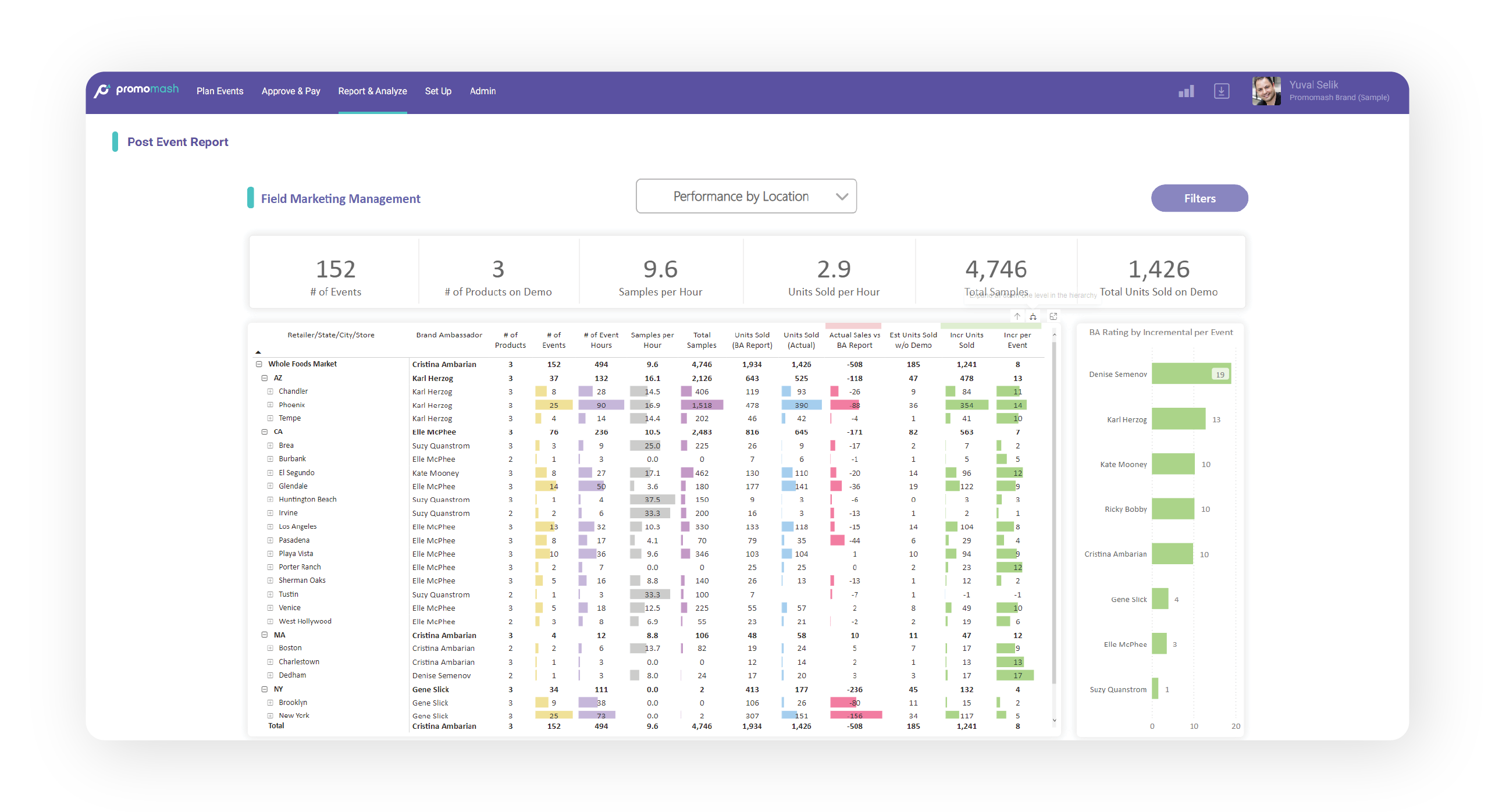 Comparing demo and merchandising data to actual sales by location seems pretty straightforward (and necessary), although we all know it has been anything but. In our Performance by Location report, all of this data is arranged to make it easy-peasy to see trends and lift at each store, by state and territory, and for each rep.
As an added bonus, top Brand Ambassadors are listed on the right by incremental unit sales. Hover over and click on the BA to get details on which retailers and locations that particular rep works.
In addition to location, the question of the best time to demo is typically hard to answer – popular opinion is that the best time is on a weekend. As expensive as demos can be, it certainly helps to have data on your side when making decisions on when to do them. Enter our Performance by Day & Time report to answer this very question – and debunk popular opinion!
4. Assess impact of demos on velocity growth.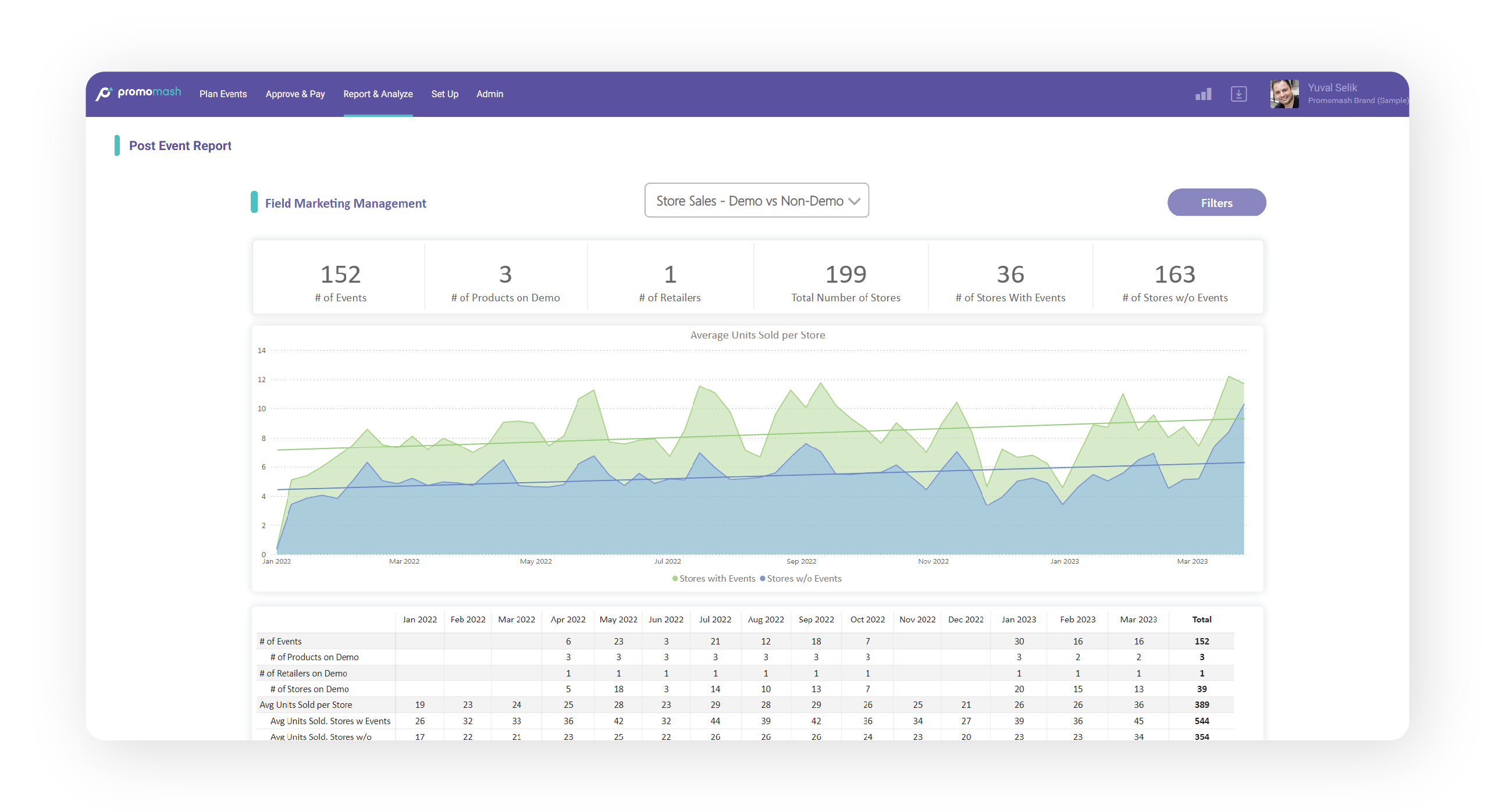 Now here's a question that every Brand Manager, Marketing or Sales executive has probably asked themselves at some point: how have demos or merchandising visits actually affected base sales velocity over time? Do stores that you are supporting perform better than those you are not?
Clearly this insight would be useful to know where to add or pull back support – or even to justify the continuation of your demo program and budget. At last, our Store Sales – Demo vs Non-Demo report can unlock this mystery.
Across the top of the report, you can see the number of events, number of products demoed, number of retailers, total number of stores, and number of stores with and without events.
In the trend chart representing average units sold per store over time, you can see (again, this is based on actual, anonymized client data) that blue represents the stores without events while the green represents stores with events. And you can clearly see that average units sold is markedly higher with event-supported stores.
And of course, you can use filters to zero in on a timeframe, product or retailer. You can see different regions, states, products, and know exactly what's happening at the store level with an indicator of whether velocity is going up, staying the same, or going down. Because the whole point of demoing is to increase velocity over time, right?
5. Identify new market opportunities.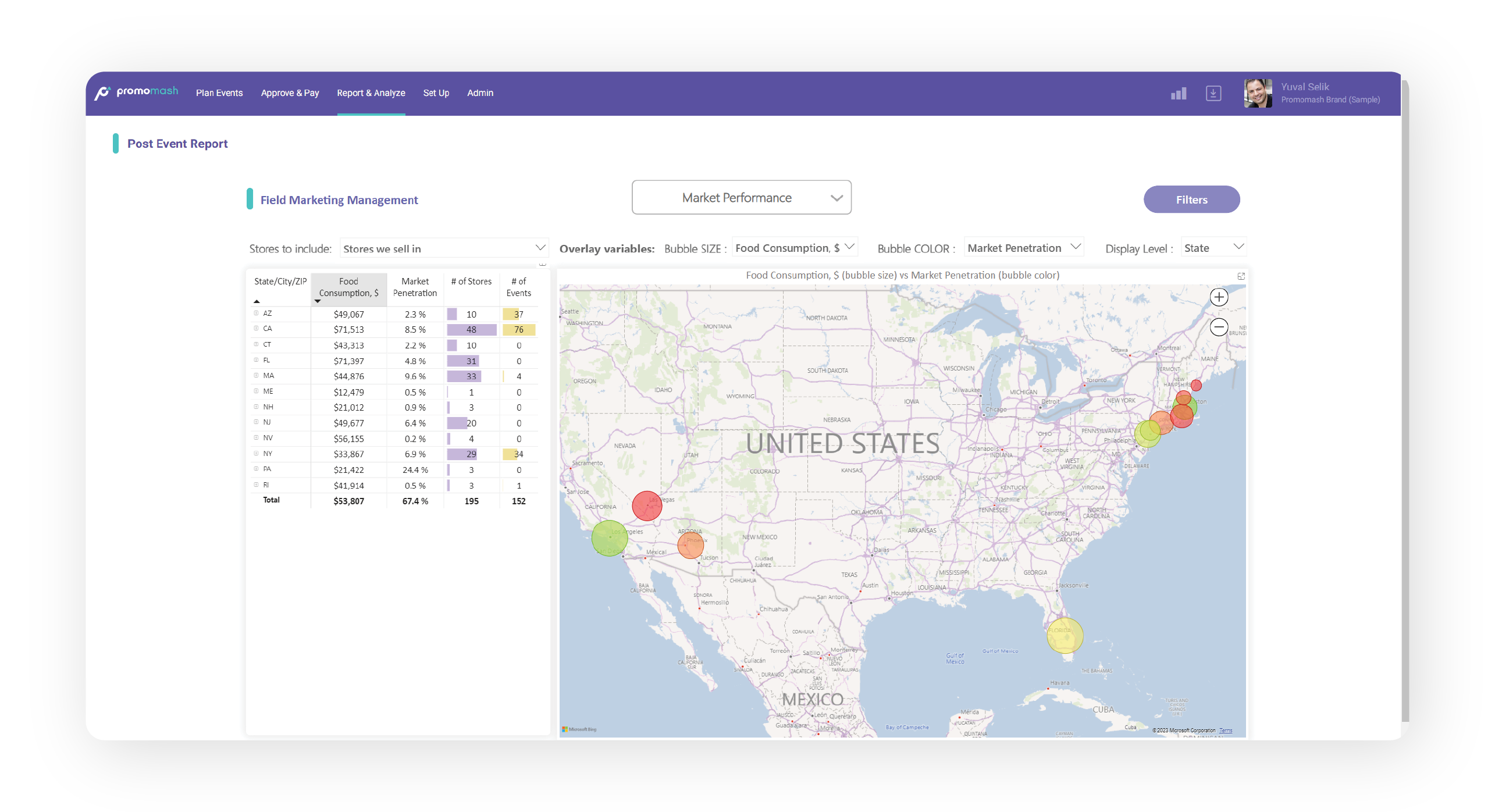 Now here is what we believe is a first for field marketing analysis: what if you could see your actual store performance overlaid with market demographics? Now you're thinking beyond location, time, brand ambassador or rep…you're asking the important questions about where your target market is and your coverage in relation to that – and that exercise can help to drive or pivot your marketing strategy.
Our Market Performance report overlays US Census Bureau demographic information for the areas you're selling in to tell you how you're doing in the markets you're reaching – so you can clearly see if there is opportunity to grow or shift. The screenshot here on the left shows food consumption (how much on average is being spent on food and groceries) and market penetration, while the bubbles' size/color represent an indicator of performance relative to market size or coverage (green = good, orange = average, red = not good).
And it doesn't end there. Last but certainly not least…
What if you could identify markets you're not presently in based on your desired demographic criteria? These clearly represent growth opportunities for your brand. And with our Opportunity by Demography report, these opportunities are presented to you clearly, with an indicator for market size so you can choose to pursue smaller test markets, or go for the bigger markets, depending on your goals.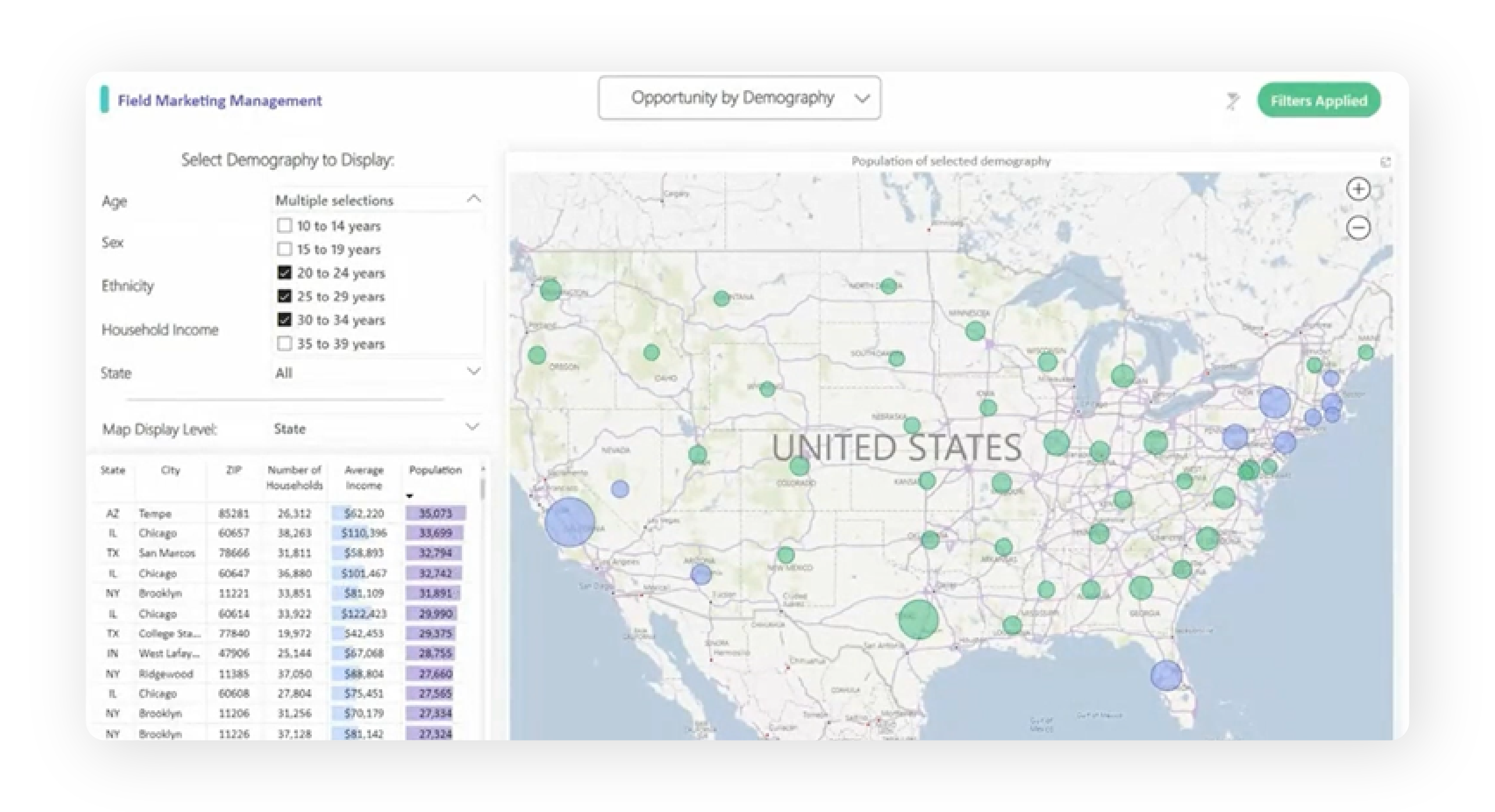 Building a CPG brand based on insights, not instincts.
As you can see, the possibilities with these new reporting capabilities are pretty significant. You now get to actually prove or disprove your assumptions on the value of your demos – but beyond that, you also get to leverage the data to strategically identify areas of growth and opportunity. This is something brands just could not do as easily before. And all of the capabilities featured here don't even represent the entirety of the new reporting suite.
This robust, new reporting package is available as an add-on to an existing eligible Field Marketing Management subscription.
Want to explore the possibilities for your brand and dive deeper into what the new reports can do? Book a meeting with us or you can start by listening to the full webinar here.